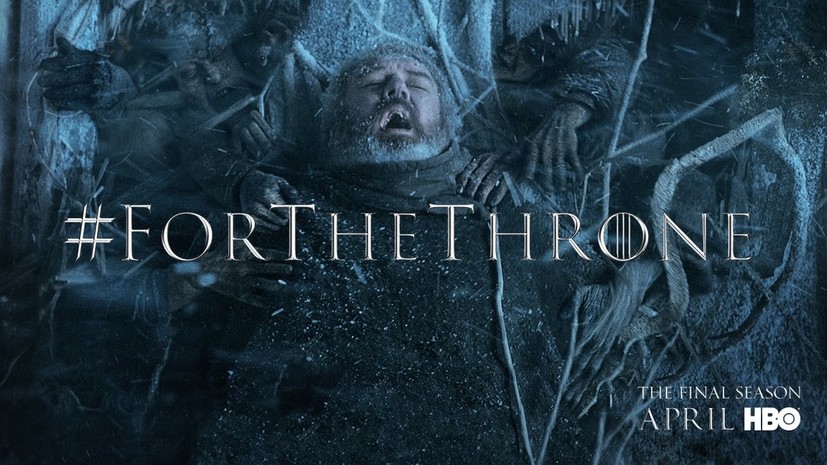 With the announcement of the spring 2019 launch of Season 8 of "Game of Thrones," one thing is now certain: Winter is here.
The eighth and final season of the megahit HBO series is fast approaching, and although the premium cabler has taken CIA-level precautions on preventing spoilers from leaking, some details are beginning to take shape.
Here's what we know so far about the epic fantasy series' last season.
"Game of Thrones" may have wrapped Season 7 last year, but fans will have to wait just a little bit longer for the hit fantasy series' eighth and final season. HBO revealed in a promotional video on Tuesday that the new installment will arrive in April 2019, with no specific date offered.
Standing at six episodes, the new installment will definitely be shorter than past seasons, which have usually capped at 10 episodes. But fewer episodes means each may be longer.
"When you think about it, up until last season we'd have six months to do ten episodes," said Liam Cunningham, who plays Ser Davos. "So we're [doing] way more than that for six episodes. So that obviously will translate into longer episodes."
That could extend to even feature-length episodes at 80 minutes or even longer. "Two hours per episode seems like it would be excessive, but it's a great show, so who knows?" HBO's Casey Bloys said.
The Haunting of GoT Houses
The show hasn't uploaded an official trailer yet, but executive producer and writer Bryan Cogman has teased the overall theme of the eighth season.
"It's about all of these disparate characters coming together to face a common enemy, dealing with their own past, and defining the person they want to be in the face of certain death," Cogman told EW. "It's an incredibly emotional, haunting, bittersweet final season and I think it honours very much what [author George R.R. Martin] set out to do – which is flipping this kind of story on its head."
"Game of Thrones" is like Russian roulette when it comes to surviving another season, and every actor that makes it to the next round seems just as surprised as audiences watching. Lena Headey, who plays the villainous Cersei Lannister, thought her character wouldn't make it it to the end of Season 7.
"I [assumed] oh, I'm going to die," she told Time about reading the script. "And then, I went straight to the end. I was really in shock. I think obviously, now, there's got to be some body count at the end of [season] 8."
Cersei's brother/lover Jaime (Nikolaj Coster-Waldau) will head North to perhaps seek Daenerys Targaryen (Emilia Clarke) or Jon Snow (Kit Harington), and Davos also makes it to the eighth season. And perhaps the best news: direwolf Ghost will be back! The show's visual effects supervisor, Joe Bauer, confirmed it, telling Huffington Post that the fluffy fan favorite "has a fair amount of screen time" in the new season.
We know that Season 8 will start at Winterfell as Daenery's army makes its way there, and since Sansa Stark (Sophie Turner) is in charge of the capital of the north, these two are bound to collide. Although she holds power, Turner said her character may be "a little bit lost" as she's finally rid of Littlefinger.
John Bradley, who plays the lovable Samwell Tarly, said all the characters are in "a completely alien environment at some points" in the new season. That could mean anything, but fans are guessing that Sam may be heading to King's Landing.
Beyond what's already known is some speculation, including that Jon Snow will find out who his real parents are. Last season it was confirmed that Jon wasn't Ned Stark's sire, but rather Ned's sister Lyanna Stark and Rhaegar Targaryen's. If Jon figures that out, it could make things awkward between him and his lover/aunt, Daenerys. The series also hinted last season that Daenerys will become pregnant with Jon's baby soon, which again, makes their relationship even more complicated/icky.
Arya Stark (Maisie Williams) has six names left on her kill list, and it's pretty likely by the end of Season 8 that she'll be able to cross more names off, which includes the Hound (Rory McCann), the Mountain (Hafþór Júlíus "Thor" Björnsson), and Melisandre (Carice van Houten). And speaking of the Red Priestess, she's warned Varys (Conleth Hill) in Season 7 that she will return to Westeros "one last time. I have to die in this strange country, just like you."
A Prequel Is in the Works
"Game of Thrones" may be ending, but the world of the show may not be ending anytime soon. HBO has given a pilot order to a prequel series, one of five "Game of Thrones" projects that are in the pipeline. Taking place thousands of years before the events of "Game of Thrones," the new show chronicles the world's fall from the Age of Heroes into its grimmest era. If all these projects pan out, we may be looking at a "Game of Thrones" dominated pop-culture landscape for another 20 or 30 years.
— Game Of Thrones (@GameOfThrones) November 13, 2018
Tweet