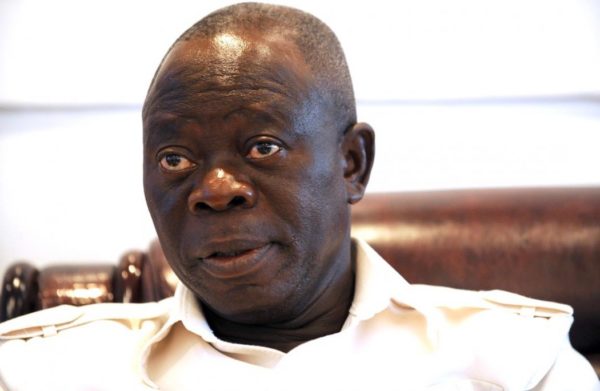 Adams Oshiomhole, the All Progressives Congress (APC) National Chairman, has inaugurated a National Peace and Reconciliation Committee for each of the six geo-political zones of the country to reconcile all aggrieved members of the party ahead of the 2019 general elections.
Oshiomhole, while inaugurating the committees on Wednesday in Abuja, said its members were expected to help the party's national leadership to find an in-house solution to the acrimony that followed the party`s primary elections.
He added that members of the committees were also to maintain peace and ensure internal harmony within the APC family before the elections.
He further added that the essence of the committees was to bring about lasting peace in the party ahead of the 2019 general elections.
"Help reconcile those who are aggrieved for whatever reasons, do everything that will help in your wisdom to bring peace in your zone," Oshiomhole said.
The national chairman said that members of the committees should meet aggrieved members and leaders of the party in their zones to reconcile them.
He explained that the party had to set up the committee in the six geo-political zones to fast track its reconciliation efforts.
He thanked members of the committees for accepting the responsibility, adding that chairmen of the committees could appoint secretariat staff in their zones to facilitate their work.
According to him, the only integrity the PDP has is looting the national treasury, saying that the APC is today delivering on the campaign promises it made to Nigerians in 2015.
Oshiomhole further said that the APC was today a bigger family because of its antecedence which made more Nigerians to join its fold.
"We have gone through a very crucial stage in the processes leading to the next Presidential, National Assembly, Governorship and House of Assembly elections.
"I think, from my own records, of the 36 states and the Federal Capital Territory, I believe we have done exceedingly well as it is impossible for the most gifted child to score 100 per cent in every subject.
"The more questions you have to answer, the more chances are that you will miss some of them.
"I believe that the house is bigger today than it was before, because those who have reservations, have since realised that President Muhammadu Buhari means business and APC is delivering on its promises," Oshiomhole said.
He maintained that the party's accomplishment in the last three and half years had enlarged it and brought in more quality political activists and leaders as well as huge electoral value across the states.
Gov. Kashim Shettima of Borno who spoke on behalf of the committees, thanked the party`s leadership for the responsibility and assured that the committees would deliver on their mandate.
"Be rest assured that we will put in our best to ensure the reconciliation of all aggrieved party members ahead of 2019 general election," Shettima who heads the South West National Peace and Reconciliation Committee, said.
Tweet