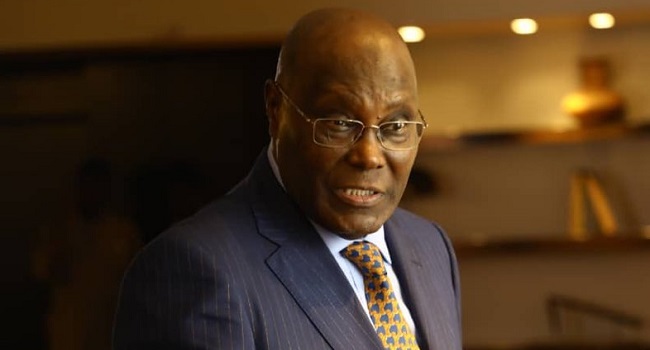 Atiku Abubakar, presidential candidate of the Peoples Democratic Party (PDP), on Tuesday, explained how the All Progressives Congress (APC) plans to manipulate the card readers in order to favour the ruling party in each of the six geopolitical zones in the country.
Atiku speaking on Tuesday at the National Executive Committee (NEC) meeting of the party said APC is in possession of telephone-like devices that will slow down the card readers in the three regions where the party is not strong while fast-tracking it in the zones where the party is strong.
According to him, this means majority of voters will be disenfranchised in the zones where APC is not favoured to win.
Atiku said: "We have just discovered that the APC have hired many of their operatives and have taken them to China to be trained, and they have been so trained, and they are back, and they are equipped with devices that are meant to slow or fasten our card readers
"So, if you are in the South-South, South-East and North-Central, you are likely to get your card readers to be slowed by those APC operatives. We have seen the machines; we have interviewed some of those who have gone on this training, and we have passed that information to the campaign council to pass to you.
"But if you are from the North-West, North-East or Sout-West, the tendency is that they will use these machines to fast-track the readings of your card readers so that many of their supporters can vote while disenfranchising the other three zones. I thought you should know that we have supplied the information to the campaign council, and you will even see the copy of the machine which each and everyone of those operatives is to hold.
"It is like a telephone but that is its job. I felt I should let you know, and you should be guided accordingly."
Tweet