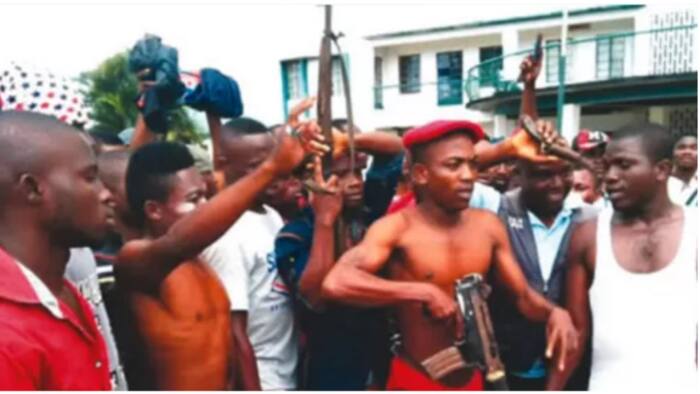 The executive chairman of Ohaukwu local government area in Ebonyi state, Barr. Clement Odah, has assured that his administration would not relate in her cause to eliminate cultism in the area.
He reiterated that his early adoption of multi-dimensional approach, had yielded positive fruits as over 125 cultists have been arrested and persecuted since he assumed office in September 2015.
Barrister Ofah made this known at the weekend while briefing journalists on security challenges facing the area.
Odah's explanation also came at a time when there were reported cases of cult clashes including killings at the boundary coast with Ngbo and Igila of Benue state.
Barr. Odah however pointed accusing finger to his predecessor in office, Mrs Chineyere Elom and other stakeholders in the area of having hand in sabotaging the effort of the state government towards bringing stability to the council and at the border coast with the two states.
"When I assumed office as caretaker on 9th September, 2015, I was confronted right at the gates of the council, with two security challenges: the external security problem arising from the Ngbo/Agila boundary dispute and internal menace of cultism and cult-related crimes.
"And to get it solved, l had to employ multi-dimensional approach in the fight against cultism. Cult-related cases are very high here in Ohankwu LGA and I want to assure that l will not relate till I stamp out this social menace.
"Also, it is on record and I challenge anyone to contradict me that my administration will be recorded in history as having arrested over 125 cultists and prosecuted them than any other chairman before me", he said.
He further linked the cult clashes in the area to battle of supremacy among two rival groups, namely Ohaukwu General Assembly (OGA) and the Ngbo, Izzia and Effium Consultative Assembly (NIECA) over the years.
"These two political groups constituted the two major political factions within the local government area during the early days following the return to democracy in 1999.
"The two groups were sharply divided and employed all manner of measures to out-do the other including use of brute violence.
"And it is the politicians among the stakeholders of the communities in question that made the sabotage.
"One of the chairmen that have ruled this council is part of the problem. The female chairman when the concept 'Ibu ife' was popularized is part of the problem. This matter is already in the public domain. My immediate predecessor. It is left for the security agents to investigate her," he noted.
Tweet